| | | |
| --- | --- | --- |
| Diary of a Rubber Chastity Maid | | |
Written by Rubber Chastity Doll

Diary of a Rubber Chastity Maid
Part One: A Maid In Training
'CLICK' the lock sounds shut. I lift my black shiny skirt, then my black frilly petticoat and stare down at my newly purchased (and locked) chastity belt. I adjust my garters so that they lift my thigh high stockings into proper position. I bend over and buckle up both of my little dolly shoes. My fake inflatable boobs push against my knees as I bend over, when they are fully inflated they are Much larger then my natural breasts and make my daily chores much more difficult.
I attach my apron, adjust my maids cap and collar, do my make up and put my hair in little pig tails. I glance at myself in the mirror, a reflection of a rubber doll stares back at me. My cock (clitty) tries with all its might to become erect but is denied by the chastity belt I have recently put on. This is a feeling I will have to become quite adjust to.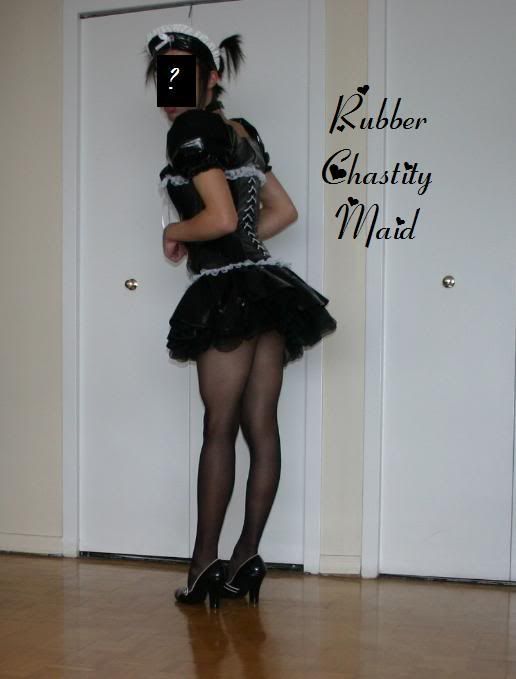 In a haze of lust I search the room for the key to my belt. I drop to my knees as I realize not only have I hidden the key on myself but I have thrown out all of my other clothes and only kept naughty maids outfits to wear.
'RING' The door bell rings! I frantically search my house for something else to wear but only find more maids outfits and a full body latex catsuit.
'RIIIING' Again the door bell chimes. Quickly, I stand in front of the mirror, adjust my outfit, put on some extra lip gloss, and head to answer the door.
"What have I gotten myself into?"

End?

TrackBack URI for this entry
Comments
(3)
Write comment